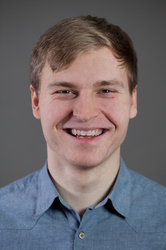 Dr.
Samuel Hoffmann
Postdoc
Telefon: 0921-552299
Fax: 0921-552315
Raum: GEO II, Rm 002
e-Mail:
Samuel.Hoffmann(at)uni-bayreuth.de
Samuel is fascinated by macroecological patterns and dedicated to conservation biogeography. Protecting biodiversity is necessary to maintain nature's functioning and services for human well-being. In his PhD, Samuel investigated the effectiveness of protected areas under anthropogenic threats.
>>
Curriculum Vitae
>>
Publikationen
>>
Vorträge, Poster...
>>
Betreute Abschlussarbeiten
>>
Lehrveranstaltungen