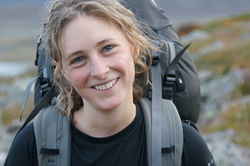 Alexandra Lawrence
Research Associate
Phone: 0921-552158
Room: GEO II, Rm 003
e-Mail:
Alexandra.Lawrence(at)uni-bayreuth.de
Alexandra works as Research associate and PhD candidate at the university of Bayreuth. Currently she investigates large-scale patterns of fragmentation within and around protected areas in Europe, as well as ecosystem services provided by these protected areas. Her goal is to contribute to a better understanding of biogeographical patterns in conservation science on a landscape-scale. This knowledge will give way to an improved protected area management and design, capable of adapting to rapid global change.
>>
Curriculum Vitae
>>
Publications
>>
Lectures, posters...
>>
Theses supervised