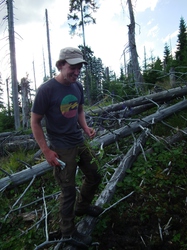 Philipp Kohler
Master-Student
At Department of Biogeography until 07/2018
e-Mail:
philipp.k.kohler(at)uni-bayreuth.de
Philipp studies Biodiversity and Ecology at the University of Bayreuth. His major interests are botany and forest dynamics. He works on the high elevations of the Bavarian Forest national park to conduct his master thesis. There, past bark beetle attacks resulted in large areas of Norway spruce snags surrounded by grassland, in particular Calamagrostis villosa. Philipp investigates how Norway spruce seedlings can establish themselves in the thick grass litter and how nitrogen and space are limited. The work is associated to the ECOPOTENTIAL project.
Furthermore, he is forestry worker by training and interested in social implications and discourses of national parks in central European highlands.
>>
Master Thesis