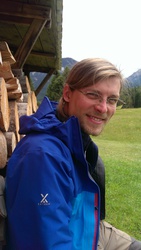 Dr.
Andreas Schweiger
Research Associate
At Department of Biogeography until 10/2016
e-Mail:
Andreas.Schweiger(at)uni-bayreuth.de
Research Interests
I'm an ecologist interested in the systemic processes leading to biogeographic patterns from local to global scale.
My main research interests include:
Effect of historic environmental stressors on ecological response characteristics (path dependency of ecosystem reaction).

 

Cross-scale similarity of ecological response characteristics.

Scale-dependence of environmental noise and its effects on the detection and interpretation of ecological patterns.


Theoretical concepts and biogeographic patterns related to the energy budget of organisms.

Optimization of ecological sampling approaches.
Awards
>>
Publications
>>
Lectures, posters...
>>
Projects
>>
Theses offered
>>
Theses supervised
>>
Courses taught